Workshops & Training
Local Opportunities To Learn
ON SET 3 DAY FILMMAKING EXPERIENCE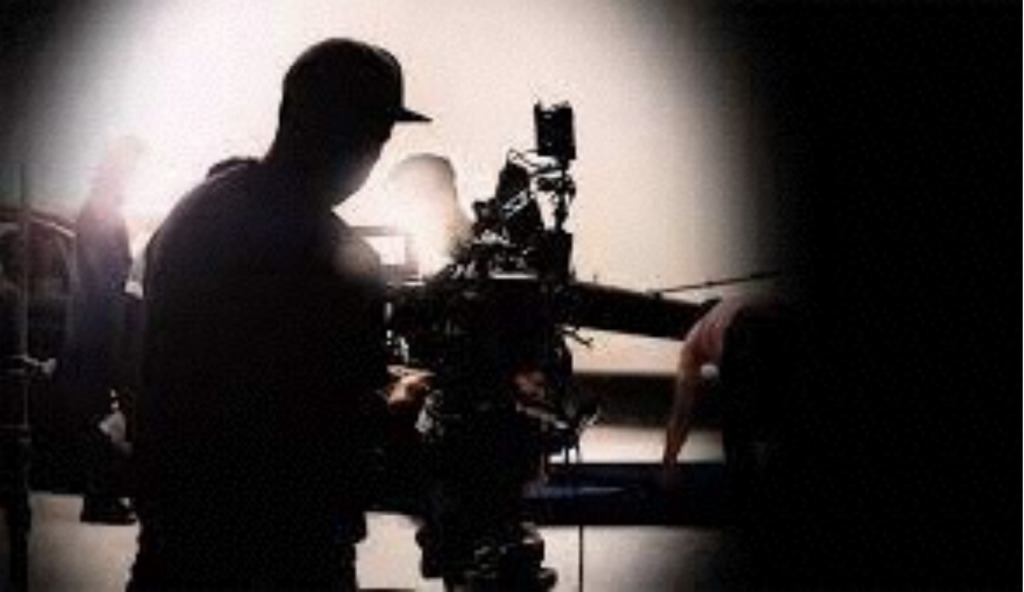 Join us for a 3-day immersion experience!
DATE: June 25-27
Head Instructor: Matt Roy – Headwaters Entertainment
Location: Hibbing Community College
$50 (scholarships available)
How do you get experience working on a set without having experience working on a set? This workshop SOLVES THAT PROBLEM! For 3 days, you will be immersed in the production process. The goal is to be able to have a short experience of what it is to assistant in G&E, Sound, as well as on-set PA. Students will be eligible to be considered as paid interns for incoming productions this summer and fall. Workshop participants will be able to confidently submit their resumes to be considered for these jobs!
DAY ONE – PRE PRODUCTION – "Plan your work, work your plan" We will spend the day going over the concept of our project, our plan of execution, and introductions to our instructors and their roles on this shoot.
DAY TWO – ON SET – STUDIO SHOOT – "There's nothing like a good ol' film light in a fogged-up studio" Our day one shoot will be spent in a studio setting, focusing on filming a subject, or multiple subjects in a controlled studio environment.
DAY THREE: INTERIOR/EXTERIOR LOCATION SHOOT – "Sometimes you remember more about the location where you shot the film than the film itself." Our day will be spent on location, focusing on getting as much out of our interiors and exteriors as we can
POST PRODUCTION: Students will be included in the post production process after they leave the shoot and will be sent a link to the final product to reference!
Instructors:
This workshop will be lead by Headwaters entertainment. Our lead instructor/producer is Matt Roy.
Cost: $50 – for scholarships, please contact exec@uppermidwestfilmtv.org
CLASS SIZE IS LIMITED In order to be sure you receive as much individual, hands-on instruction, we are keeping this class small. Sign up today!
This event is presented by UMFO in partnership with Colleges of Northeast (Minnesota) Higher Education District (NHED) & Advanced MN & Headwaters Entertainment
---
HAIR & MAKEUP : ON SET 3 DAY EXPERIENCE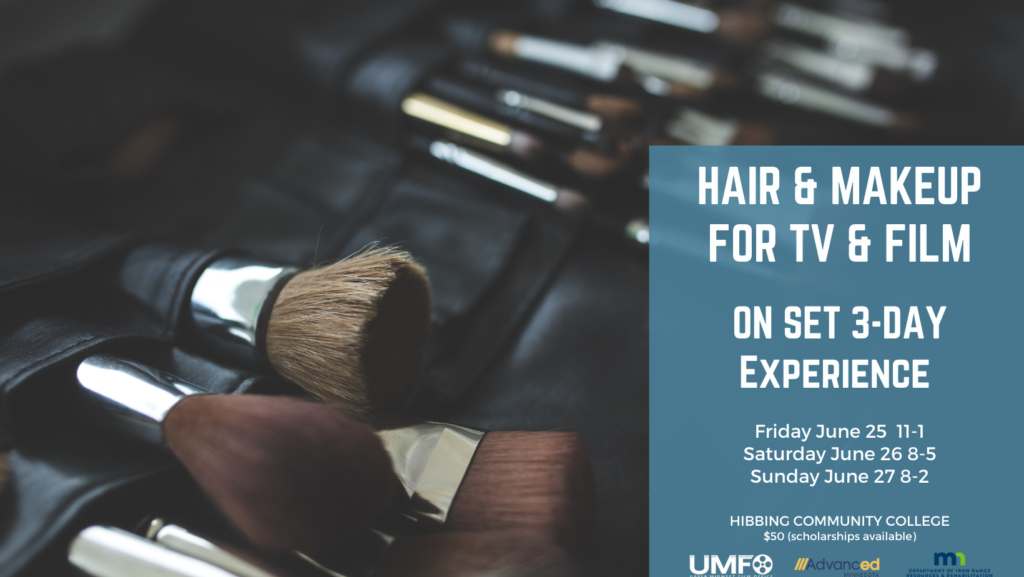 DATE: June 25-27
Instructor: Ora Jewell-Busche
Location: Hibbing Community College
$50 (scholarships available)
This 3-day workshop is an opportunity for up to 4 individuals to get hands-on experience in a production setting! This workshop is aimed at participants that already have hair & makeup experience (not necessarily in production) and are interested in learning how to transfer skillset into the film and TV industry.
June 25-27 UMFO, in cooperation with Advanced MN and Headwaters Entertainment,  is offering an on-set production experience aimed at getting people the experience needed to work on incoming film/tv sets as Production Assistants.  As a part of that experience,  they will be doing both a "studio shoot" and a "location shoot" where they actually produce usable content.    
Simultaneously, we will offer up to 4 participants the opportunity to do hair and makeup on this set under Ora's instruction. We recognize that summer weekends are precious in Minnesota! We are offering this workshop at this time in order to get ready for the next set of features being shot late this summer and early fall. Workshop participants will be able to submit their resumes to be considered for paid internships on these projects.
Eligible participants must have some hair and/or makeup experience.
Bring any kit you have for hair/makeup we will have additional supplies that you can pull from if needed.
Cost: $50, scholarships are available.
June 25, 11-1
June 26, 8-5
June 27, 8-2
INSTRUCTOR:
Ora Jewell-Busche is a Minnesota based costumer and wig & make-up designer with over a decade of working in the field of opera, theater, and film. She has worked extensively with companies ranging from The Lyric Opera of Chicago, Chicago Shakespeare, Lookingglass Theater, Steppenwolf Theatre, The Goodman, Lyric Opera of the North, Cleveland Play House, Pacific Symphony, Hawaii Opera Theater and many more. Film and television credits include Were the World Mine, Chicago Overcoat, Prison Break, and Batman v Superman: Dawn of Justice.
This event is presented by UMFO in partnership with Colleges of Northeast (Minnesota) Higher Education District (NHED) & Advanced MN & Headwaters Entertainment
---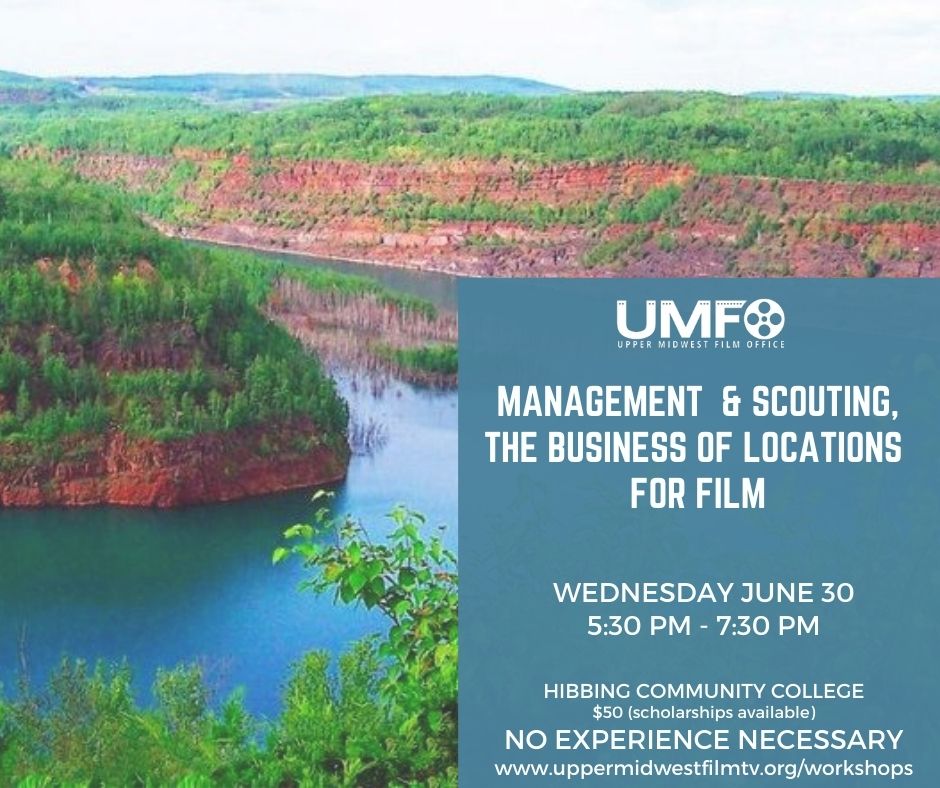 DATE: June 30
TIME: 5:30 PM – 7:30 PM
Instructor: Charlotte Ariss
Location: Hibbing Community College
$50 (scholarships available)
When it comes to film, TV & Commercial production, the locations department is a very important part of the crew. Are you organized, articulate, and know your way around town and the surrounding area? Want to know more about working in Locations? Heard some rumble about film and tv production happening and want to become involved but don't know how? This workshop is for you!
Our Instructor is Charlotte Ariss, Principal, Charlotte Ariss Locations
Charlotte Ariss has spent more than 30 years as an advertising professional in agencies big and small and 14 of those years with one of the most beloved Minnesota brands—Target. Along the way, she's learned a bit about creative types and what they're looking for when casting the right backdrop for their vision.
Charlotte Ariss Locations was born from the need for a location resource with a fresh perspective in the Twin Cities, a location scout and manager who can provide unique and accessible locations to photographers and filmmakers and ensure all of her sets are free from cumbersome restrictions, unwanted surprises and unnecessary drama. The driving force behind her successful start-up has been attention to winning customer service and a wide selection of out-of-the-ordinary and traditional locations across Minnesota and on the West Coast of Wisconsin.
Charlotte Ariss Locations client roster reads like a who's who and she has worked on projects for FedEx, Room & Board, Target, Best Buy, United Health Care, Honeywell, 3M, Cargil, Mazda, Aveda, Bose, Proctor & Gamble, Dick's Sporting Goods, Samsung, Intel, Dodge, NBC, CNN, The NFL, DuPont, Formica, 3M, Blue Cross Blue Shield, Sleep Number, Mall of America, Polaris, United States Post Office, General Mills, Hormel, Ashland Midland Oil, AMC/American Movie Channel, Rapala, Carlson Companies, Kemps, YMCA, Cox Communications, Lowes, Timberland, the State of Minnesota, Hasbro, Buffalo Wild Wings, Trane, Service Master, Pioneer, Cenex, RBC, Duluth Trading Company, Puma, Jack Links, Optum Health, Allen Edmonds, Toro, Pioneer, US Bank, United States Military, Wells Fargo, Shell Oil, Formica, Adidas, Evereve, Home Depot, Mediacom, Starkey, CSG, Walmart, Fellowes, Hy-Vee, Garmin, Bissell, Mayo Clinic, Land's End, Marvin Windows, Anderson Windows, Abbott Laboratories, Slumberland, Valspar, Lyft, Open Table, and Google.
Instagram: @charlottearisslocationsmn
This event is presented by UMFO in partnership with Colleges of Northeast (Minnesota) Higher Education District (NHED) & Advanced MN
---
PAST WORKSHOPS:
Introduction to Production Sound – POSTPONED
Introduction to PA: Virtual 5/17
Set Etiquette: Hair/Makeup & Costume 5/2
Introduction to G&E Hibbing 4/25
Introduction to Camera: Duluth, 2/21
Introduction to Production Sound: Duluth, 2/21
Introduction to G&E: Duluth, 2/20
Introduction to PA: VIRTUAL, 2/20
Crew Introduction & Overview: VIRTUAL 2/18