With bipartisan support, Film Production Tax Credit increased to $25 million as part of the Omnibus Tax Bill, paving the way for film and TV production industry growth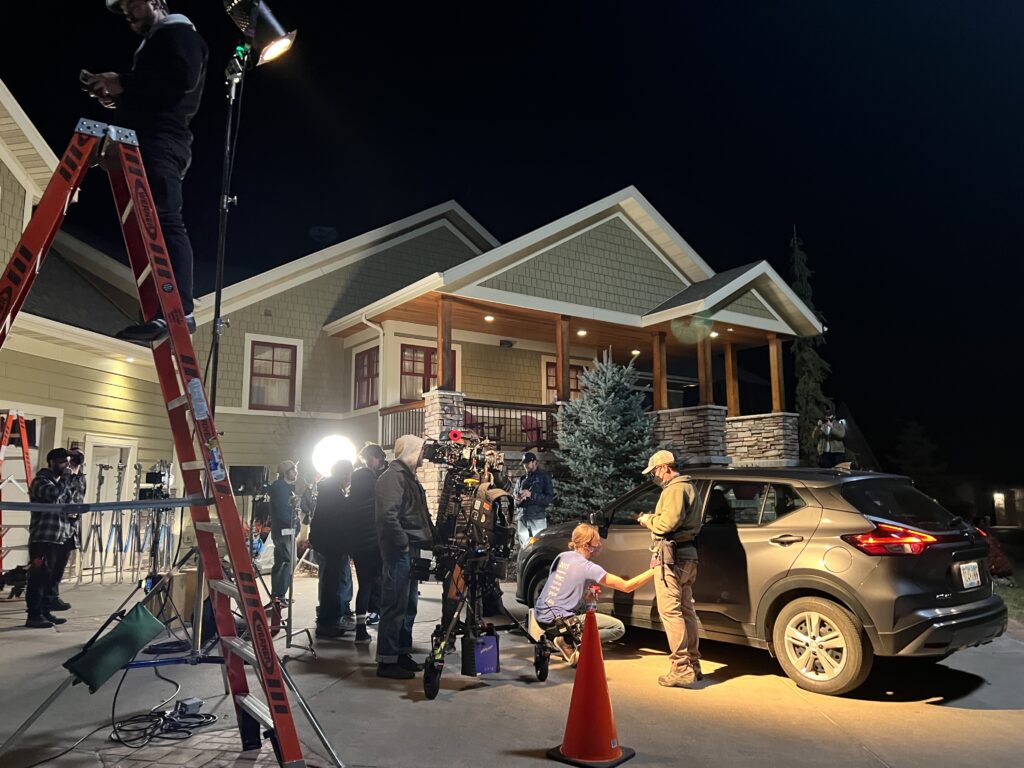 (May 24, 2023) Workers in the film and TV production industry today celebrate the passage by the Minnesota Legislature of the Omnibus Tax Bill, which includes a provision that will spur more production in the state, create new jobs, and bring millions of dollars in new spending to Minnesota.
The Film Production Tax Credit (116U.27), an incentive program passed in 2021, will be revised to include changes intended to attract larger budget productions with higher paying jobs. The updated legislation increases the annual tax credit cap from $5 million to $25 million, and extends the statute's sunset provision to eight years. These changes create long-term stability intended to attract episodic programming for television, because networks and streamers generally return to the same location year after year to produce multiple seasons of a TV project. The bill now goes to Governor's Walz for signing.
The tax credit incentive revisions emerged from conference committee with bipartisan support from across the state, led by Rep. David Lislegard (DFL-07B) and Sen. Grant Hauschild (DFL-03). House authors included Rep. Melissa Hortman (DFL-34B), Rep. Greg Davids (R-26B), Rep. Jamie Long (DFL-61B), Rep. Liz Olsen (DFL-08A), Rep. Alicia Kozlowski (DFL-08B), Rep. Andy Smith (DFL-25B), Rep. Jeff Brand (DFL-18A), and Rep. John Petersburg (R-19B). In the Senate, Hauschild was joined by Sen. Carla Nelson (R-24), Sen. Kari Dziedzic (DFL-60), Sen. Ann Rest (DFL-43), and Sen. Bobby Joe Champion (DFL-59).
"Workers in Minnesota's production industry have reason to be grateful to the Legislature for including this provision in this year's tax bill," said Melodie Bahan, Executive Director of MN Film & TV and Co-Chair of the MN Film Alliance. "This year's increase and extension will allow us to compete for the billions of dollars the industry spends annually, in a market that is increasingly competitive each year."
"The bill passed in 2021 served as a proof of concept," said Casey Lewis, Co-Chair of the MN Film Alliance. "It showed Minnesota can attract a great deal of attention from the industry with its ease of transportation; varied geography, scenery, and weather; and crew members and talent with experience on big budget projects."
Since the tax credit was made available in 2021, it has been utilized by both feature films and episodic TV series. Eleven productions have been approved for the tax credit to date, and their projected spending will exceed $20 million. Feature films have shot in locations from Goodhue and Sibley counties in the south to Duluth and the Iron Range in the north.
According to Shari Marshik, Executive Director of the Upper Midwest Film Office in Duluth, "We had a great first year! From a production perspective, expanding the cap on tax credits to $25 million will make this program what it's intended to be. Extending the sunset will allow projects to consider Minnesota as a viable, realistic option for larger, longer-term projects like television series. From a private equity perspective, these changes create the stability in policy that make Minnesota a place to invest in necessary infrastructure. This means increased economic activity in our state, including good-paying, stable jobs, and increased tourism."
"American film and television content is among the most in-demand product made anywhere in the world, and that demand has never been higher," said Duncan Crabtree-Ireland, National Executive Director of SAG-AFTRA. "Production leads to the creation of good jobs in many industries: from hospitality workers and drivers, to local merchants and the building trades, the spillover benefits reach far beyond the movie set. With the expansion and extension of the tax incentive, the state of Minnesota has claimed a larger presence in this growing industry."
Per the Motion Picture Association, in 2021 the film/TV industry was responsible for creating 2.4 million jobs nationwide and paid $186 billion in wages nationwide. Two-thirds of those jobs are with indirect industries such as hospitality, transportation, and the construction/building trades. It is estimated that film or TV productions spend $250,000 every day in communities where they shoot.
The expansion of the tax credit program was supported by the Minnesota Film Alliance and its member organizations including SAG-AFTRA, IATSE Local 490, Teamsters Local 638, Upper Midwest Film Office, MN Film & TV, along with the AFL-CIO, numerous small business owners. and hundreds of individual workers.
###
About Minnesota Film Alliance
The Minnesota Film Alliance (MFA) is a state-wide non-profit trade association that represents Minnesota's film, episodic & digital content production industry. MFA advocates on behalf of the individuals and companies involved in all aspects of the production of film, TV and digital media in Minnesota. In doing so, we create jobs in related industries such as construction, hospitality, transportation, retail, and tourism; while generating economic development in communities large and small across Minnesota.
About SAG-AFTRA
SAG-AFTRA represents approximately 160,000 actors, announcers, broadcast journalists, dancers, DJs, news writers, news editors, program hosts, puppeteers, recording artists, singers, stunt performers, voiceover artists and other entertainment and media professionals. SAG-AFTRA members are the faces and voices that entertain and inform America and the world. A proud affiliate of the AFL-CIO, SAG-AFTRA has national offices in Los Angeles and New York and local offices nationwide representing members working together to secure the strongest protections for entertainment and media artists into the 21st century and beyond. Visit sagaftra.org and follow @sagaftranews for breaking news from SAG-AFTRA.
About MN Film & TV
Minnesota Film & TV was founded in 1983 to serve as Minnesota's non-profit film commission, with a mission to advance Minnesota's economy and enhance its cultural environment by promoting and supporting the state's production industry. Minnesota is home to hundreds of production and post-production facilities and small businesses that serve the industry, along with thousands of individuals working as writers, directors, producers, editors, designers, technicians, mechanics, artists, actors, and in related fields. www.mnfilmtv.org.
About Upper Midwest Film Office
Upper Midwest Film Office (UMFO) was originally formed in 1995 as a public-private partnership under Northspan Group. In 2020 UMFO formed as a 501(c)(3) to support the regional economy by promoting increased media production across Northern MN. UMFO is dedicated to bringing jobs and economic impact to the region through a thriving media creation industry. They assist production companies by providing incentive administration, connecting with local vendors, creators, and crew, and assisting to overcome production challenges, developing workforce, and promoting the region to industry decision makers.